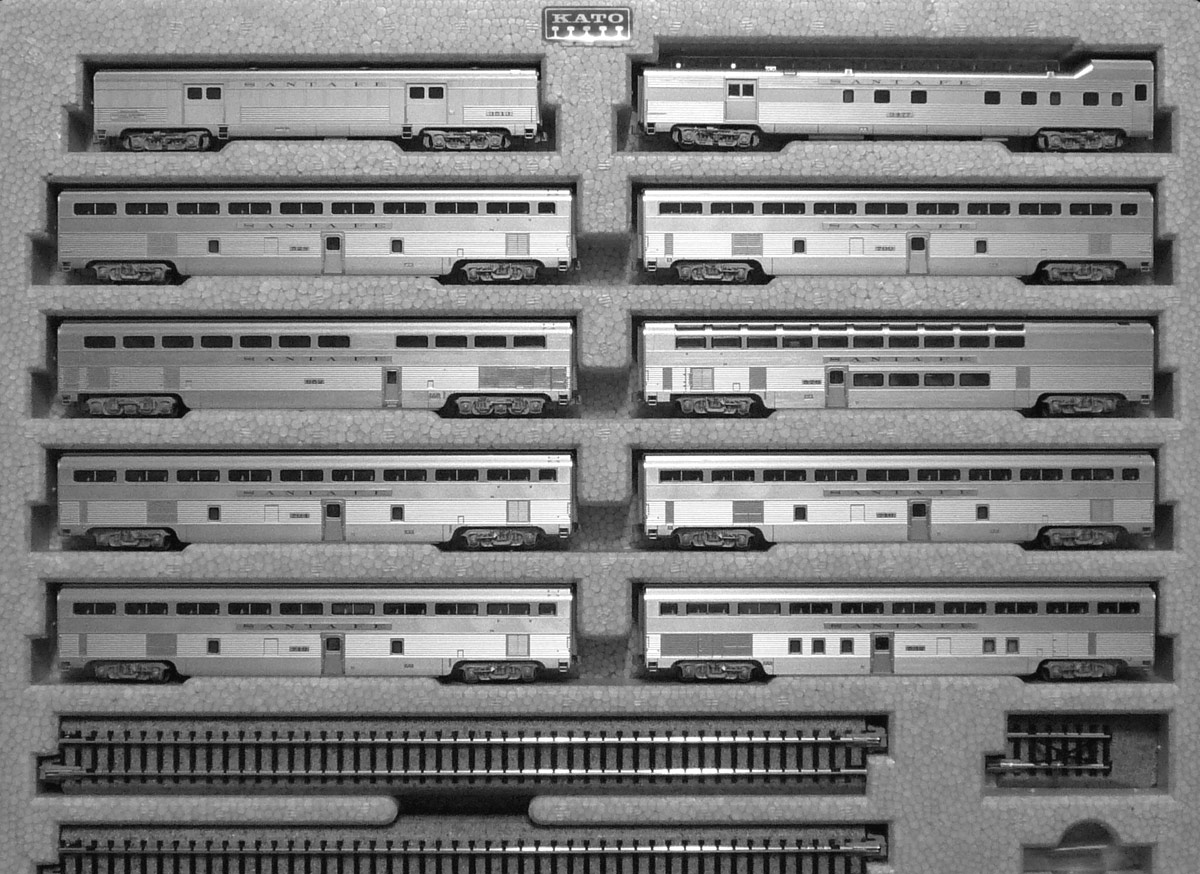 For Santa Fe N scale enthusiasts (and collectors) hoping to model Santa Fe's 1956 all BUDD Hi-Level El Capitan at a very affordable price, now is the opportunity with the recently released styrene 10 Car Set (stock#106-075) and 2 Car Add-on Set (stock#106-7115) by KATO U.S.A., Inc.
A complete replica of the all-coach, all Hi-Level train can easily and accurately be created with these sets. KATO's 10 Car Set includes: BUDD Baggage 3513, PS Baggage-Dorm 3477, BUDD Transition Chair 528, BUDD Chair 700 and 704, BUDD Diner 652, BUDD Sky Lounge 576, BUDD Chair 716 and 719 and BUDD Transition Chair 532 (complete with marker lamp and "Conquistador" drumhead) ($250). The 2 Car Add-on Set includes BUDD Storage Mail 3527 and additional BUDD 72 seat Chair 723 ($50). All cars have interior fixtures and are fitted with metal wheels (magnetic coupler trip pins are also included). Lighting kits can be purchased separately.
The beauty of KATO's craftsmanship brings back many memories of the Hi-Level era. It is an exact match of the innovative, sleek and handsome design proposed by BUDD to Santa Fe through revamping of its experimental cars 526-527. Passengers were not only impressed with the smooth ride (and noise reduction) but also spaciousness and view from the upper level. And so, with minor modifications, Santa Fe then placed its first order in 1954, and on July 8, 1956 the new Hi-Level consists were delivered and placed into service.
Unlike past Hi-Level representations, KATO has surpassed and accurately captured correct roof contour, correct facing of seats on both 500 transition cars, properly sized windows on lower level and car ends, luggage loading doors in car sides, fantastic finish and lettering for Santa Fe, diaphragms, correct placement of diesel alternator and HVAC screening on both 500 and 700 series cars as well as diner and sky lounge, stirrup steps, exhaust stacks and outside swing-hanger passenger trucks, not to mention the many other details that make this an excellent addition to any layout and/or collection. A minor detail noticed on the N scale set, however, is that battery boxes were omitted on the underneath side of all cars, and trucks are somewhat darker than car bodies. Nevertheless, using a silver (or aluminum) paint may help kick the trucks up a notch...Santa Fe always made sure that its cars received this "special attention" before leaving LA to maintain its public image as the finest in passenger service.
My deep affinity with the Hi-Level "Cap" causes me to take a very special interest in this review. At age eight and seeing my first photo of the stainless steel, BUDD-built streamliner, I knew I had to ride it! And so in 1960, at the age of nine, my wish came true when my parents put me aboard at Galesburg, IL, for the first of many transcontinental rides west to Southern California! For me, the only way through the Southwest was to ride high and smooth above the rails, in style atop the Hi-Level El Capitan, the Santa Fe way!!! And so as this affection grew, so did my fascination with every aspect, every inch of the Hi-Level design, even to this day. There has never been another train like it and never will, matching BUDD-Santa Fe's partnership to economic innovation and coach travel at its finest! The Hi-Level El Capitan's scenic views and fast schedule between Chicago and Los Angeles made it the popular choice for many during the late 50's and 60's, and amazingly, several of the Hi-Levels can still be found in service alongside Amtrak's "Superliners" today.
Al Willcoxen
(KATO is also offering an N Scale remake of the 1951 Super Chief to match its two El Capitan sets. For Santa Fe N scale enthusiasts (and collectors) desiring to model Santa Fe's combined El Capitan-Super Chief, KATO now offers the all-pullman Super Chief with the recently released styrene 8 Car Set (stock#106-074) and 4 Car Set (stock#106-6003).