"Eureka was the county seat of Greenwood County and the largest town on the Howard Branch (2914 in 2000). At Eureka the engines could take water and they nearly always did. There was a large and rather modern brick depot, a sizable grain elevator, a house track serving the depot and elevator, a short passing track (two blocks long), a long passing track (nearly half a mile long!), a loading dock served by a spur off the house track, a warehouse served by a spur off the short passing track, and a stock track a mile northeast of the depot. Eureka was a train order office in addition to the Station Agent and a telegraph operator. There was a freight truck and a six man section crew put-putted out daily." (James Burke, Iron Horse and I)
Click here for more depot information.
Rod Riley reported that the wooden loading dock was used in the early 70s to unload farm machinery coming from manufacturers and to load scrap in gondolas for movement elsewhere.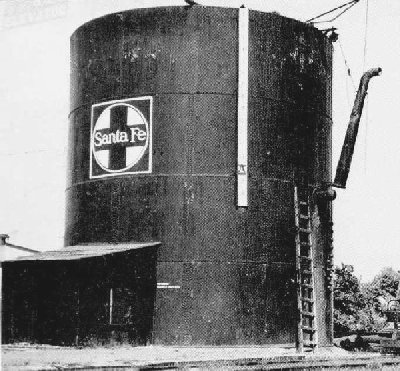 Photos by James Burke
The water tank stood adjacent to the tracks and was of standard ATSF design. After water thirsty steam ceased, the tank was converted to a silo and a conical roof added. In the summer of 2001, it remained as a rusting hulk. Santa Fe System Standards, Vol. 3, by Kachina Press contains plans for ATSF water tanks. Click here for more photos.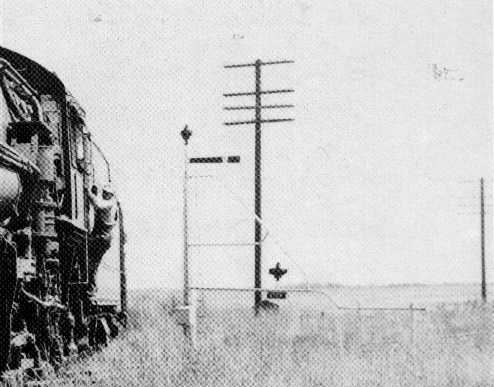 James Burke photo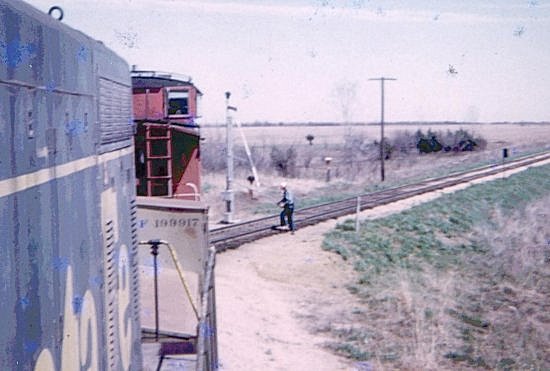 Rod Riley Photo, circa 1973
This is a photo of the ATSF heading south (west) over the diamond. Note the gate which normally was closed on the ATSF, protecting the crossing.