Prior to 1972 in this history, when employee names are listed in towns or offices, we realize that all clerks on the Colorado Division Station roster represented by the (BRAC) Brotherhood of Railway and Airline Clerks were eligible to qualify at any station on the division. Most had found their niche in a certain area, or community, and stayed there whenever possible, however their names may appear in multiple listings.
Likewise, members of the (ORT) Order of Railroad Telegraphers had a separate division seniority roster, and could hold telegrapher positions anywhere on the Colorado Division.
After 1971 the BRAC clerks and the ORT telegraphers merged, with seniority being dovetailed, into one roster.
The General Office Building clerks on the Superintendents Operating Department roster had their own seniority district, but were still members of BRAC. Their seniority allowed moves mostly within the building itself.
LA JUNTA RAIL HISTORY
AS I KNOW IT, LOVED IT, AND LIVED IT !
1944-1986

Colorado, the "Centennial State", became a state in 1876. The Atchison, Topeka Santa Fe Railway came to La Junta in December 1875. La Junta in Spanish means "junction" referring to where the northwest bound Oregon Trail split off from the Santa Fe Trail that went southwest. The Santa Fe likewise junctions in La Junta with main line traffic to Albuquerque, and a branch line to Denver.
RAIL YARDS
The rail yards are on the south bank of the Arkansas River, and by my arrival in 1941 as a boy of 15, La Junta had all the usual facilities needed to operate as a division point. The mechanical back shop area was next to the river, then the freight yard tracks, then the passenger yard tracks and finally the depot facilities and yard offices. This was in the main yards. Uptown was the General Office Building on the corner of 4th & Santa Fe Avenue featured in a separate article.
The river made the yards subject to flooding, and the 1921 flood wreaked havoc in the yards, as did successive floods. An earthen dike was built, but the annual build up of silt made the dike less effective as time went by, and flooding occurred more often. (The most recent was this year, April 1999.)
A panorama picture taken in 1913 shows an overhead walk way from the passenger yard to the round house to access the back shop. It was removed in 1930 and a cement lighted tunnel was built to replace it.
By 1941, the oil burning passenger train engines were fueled in the vicinity of the tunnel, and over the years, leakage of fuel oil seeped into the tunnel, requiring a raised wooden walkway platform. The tunnel, even with lighting, was a smelly and spooky place to walk, especially during the night hours!
In 1941 the diesel and oil burning engines were taking over, but we still had coal fueled switch engines in the yard that were hand fired (with scoop shovels), and some road engines with coal stokers. One of my chums was Alvin Johannes and he was a fireman on a yard engine. I do not remember when the last coal fired engine was used on the Colorado Division.
Passenger Yard Layout
The yard from west to east started with the original freight office and warehouse (where I never worked), which was abandoned when the present combination passenger and freight depot was built in 1950's. It is now a feed store.
Combination Telegraph Office and Yard Office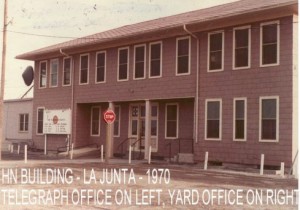 East of the freight house was the two story building (now removed) housing the Yard Office and Yardmaster on the west side, and the Telegraph Office on the east side. The building was called the HN building, the railroad code call letters for La Junta. The upstairs portion had lockers for trainmen's use, and one room used for a meeting place. I never worked in this building but from memory, I will try to list those persons that did
Two of the General Yardmasters I remember were Vic Bishop, and John Hjelmstad. Trick yardmasters included "Shug" Shugart, Lon Zumwalt , Cleo La Fever, Don Hjelmstad, Virgil Kibler, Bob Swentzell, and John Cullinane ( a former clerk).
Yard office clerks were Don Lowman (later Agent), Roy Conyers, Ralph Taylor, John Proctor, Christopher "Kit" Carson, Frank Foster, Hubert "Red" Hinman (later Agent at St. Joseph Mo.), Virgil Benham, Noel "Pepsi" Jenkins, Ron Alvis, and Ray Hunter to name a few. Some of these were crew callers, known as call boys in earlier days.
Bob Collier and Dave Proctor were two of the Refrigeration Department Inspectors also in the yard office. Dave finished his career in Denver.
At the HN office, Ben Turner was Head Wire Chief in my early days, and Rick Langley in later years. Trick wire chiefs included Bill Frye, Jack Hagerman, and Tom Peabody to name a few. Among the many ORT operators that either worked there, or were eligible to qualify, were Guy Turrentine, Herb Trumble, Joe Baublits, Gary Montgomery, Bill Davis, Bob Marston, Howard Holter, Cecil Hendrickson, Bob Wheeler, Jim Lewis , Pat Martin, Dave Muniz, Ken Zwick, Mary Zwick, Susanne Proctor, Ed Vela, Debby Skinner, Ron Yergert, and Doug Harrison. Some of this group may have worked in the train order office at the passenger depot in the 1970's and some may have been promoted to dispatching. Some even went to train service in the 70's and 80's.
Messages were hand delivered to offices by messengers, usually ladies, many of which became train order operators, and later clerks when the different crafts were merged in the 1970's. Messengers included Hazel Bailey, Doris Holcomb, Julia Rupp, Mary Stahl, Bonnie Swentzell, Bonnie Casper, Velma Michels, and a host of others.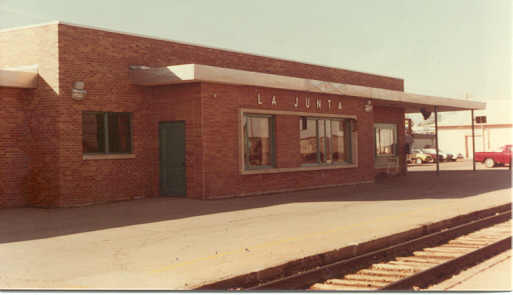 When the new passenger depot was built, they installed a message vacuum tube from the HN office to both the depot, and the General Office Building. As the tube aged, moisture leakage became a problem, and foot delivery was used as needed. Foot delivery was used for all other offices.
We sometimes attended safety meetings in this building. As a lure for young appetites, they had something to eat and drink. At one meeting just before the lights went out for the movie, one piece of pastry was left. Everyone, being polite, declined to take it. When it was dark, I saw Duane Fox slyly inching his hand towards the prize, without looking. I took the piece, and watched his frantic hand go all over the table, and finally turning his eyes to the problem and me with a look of frustration as I ate the goodie!

Reading Room
East of the HN office was the Reading Room, (now removed) which was an overnight rooming house for out of town rail personnel and trainmen waiting for the return trip to their home point. I roomed there on occasions when a force reduction at Lamar or Granada caused me to bump into La Junta. The cost was .50 per night, which included showers. Gus Bradley the Watch Inspector had his office there, and may have also been the "room clerk", but I think there was a man assigned to that job, name unknown.
The main floor was actually the second floor. The original first floor had been a swimming pool in the middle of the building in the early days. It was later converted to a dormitory which had no windows, and was a cool place to sleep in hot weather, almost like a basement room. There were also rooms with two beds each. You might go to bed in a room by yourself, and have a room mate when you awoke.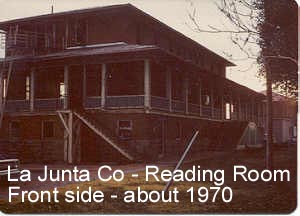 The main floor was an open area with chairs and couch's, and papers and books for passing the time. There may have been a pool table, since they were a common item in places such as this. The track side of the building had a large covered porch, and shade trees which provided a pleasant place to sit.
In September 1945, I was working in La Junta, and I bid in a new Utility Clerk position at Granada Colo. established to handle the extra business of closing the Japanese War Relocation Center known as Camp Amache. Union rules were, if you bid in a job in another community, and were not released to make the move within 21 days, they had to pay your living expenses for the extra time held on the old position.
I was kept for an additional nine days, and my total living expenses were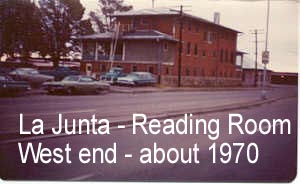 $15.75. Besides my nightly room rate at the Reading Room, my meals were .35 for breakfast; .35 to .40 for lunch; and .55 to .65 for dinner I remember that I ate "higher on the hog" those nine days, than I usually did!
Railway Express Building
East of the Reading Room was the Railway Express Agency building, (still standing as of this writing) but used as storage.
Old Passenger Depot and Fred Harvey Hotel
The three story hotel building (See FRED HARVEY STORY) (removed in 1950's) also housed the passenger station and ticket office, and baggage room in the west portion of the ground floor. The building was razed in the 1950's and a new station was built on the same site. The only thing left from the old building was the huge cockroaches in the sewer system!
Carmen
East of this building were the carmen shanties who serviced the various cars on all trains. Who can forget these men with their long spouted cans for oiling the old style brass journal boxes. The lids on the boxes were snapped open with a squeak, and slammed shut with a bang! These jobs were gradually eliminated with the roller bearings.
Trackside in the passenger yard were long water hoses, where carmen filled engine and passenger car tanks, and as the hoses were removed from the cars and engines, there was nearly always a loud gushing stream of water as air pushed the excess out, and water flew everywhere.
Carmen names I remember were Phillip Johannes, Charley "Rabbit" Green, Al Monaco, and later Foreman Dennis Robinson. I remember a multitude of faces, but not names.
Another memory is the mangy rail dogs that found the shanties for shelter, and to beg handouts during meal times. They knew exactly when each group of men ate their sack lunches, and were waiting for the handout!
New Passenger Depot and Freight House
Built in the 1950s, this one story building originally housed the news stand in the west end, with a display window opening onto the platform. The room inside the depot was all display, open to the adjoining passenger waiting room and ticket office.
A small office off of the ticket office housed at different times, the ticket agent; freight agent; or the rail policemen.
The hallway to the east contained coin operated baggage lockers and rest rooms for both genders.
A door then led into the one room multi - desk freight office; a hallway on the other side to another set of rest rooms; the baggage room; and finally the freight house and trackside unloading dock. A few carmen shanties were located near the dock
Since it was also the bus depot for Greyhound and Santa Fe Trailways, the new depot also had three covered bays for bus parking, but the bus lines eventually moved away, allowing three special parking places for the company truck and supervisory personnel vehicles.
List of Passenger Trains in 1945
Chicago to Los Angeles and return passenger trains were numbered even when eastbound, and odd westbound. Full service indicates dining car and /or lounge car.
Lightweight "Streamliner" Cars
Chief, Nos. 19 & 20, full service extra fare all sleeper daily.
Super Chief, Nos. 17-18, full service extra fare all sleepers, twice weekly. This train later sported a domed lounge car.
El Capitan, Nos, 21-22, full service extra fare all chair car, twice weekly
(In the 1940's the El Capitan were standard size cars, but later were High Level cars giving every passenger an elevated view)
The Chief carried many movie stars, and autograph seekers were on hand every evening as stars, such as frequent rider Gregory Peck, walked along the platform. Edward Arnold rode the train often, and even came to La Junta in 1943 when invited by student Philip Domenico for a special celebration. They had a gathering in the old courthouse square, and at the high school.
Other stars rode the late night Super Chief, but it was not as accessible as the Chief. We seen Abbot and Costello one night through a sleeper window, playing poker with a group of men.
I understand the High Level El Capitan cars were purchased by the Alaska RR when Amtrak took over, and now run from Anchorage to Denali park.
Standard Heavyweight Cars
California Limited, Nos. 3 & 4, full service chair and sleepers daily
Grand Canyon Limited, Nos. 123-124 full service chair and sleepers daily (added about 1950 ?)
Fast Mail & Express Nos. 7-8, daily with one combination chair-baggage car. I rode No. 8 to Lamar occasionally. It was a fast, slam bang ride, the combination car being the "caboose" of the train!
Denver - Kansas City
Centennial State, Nos. 9-10, full service chairs and sleepers daily
Denver - La Junta
Centennial Limited (?) Nos. 13 & 14, full service all chair cars
La Junta - Newton
"The Plug" Nos. 127-128, actual name unknown.
This seemingly unimportant daily train left daily about 1:00 PM from La Junta to Newton and return. The consist was an engine, baggage car, Railway Post Office (RPO), and a chair car.
During those war years, some of the chair cars were also retrieved from the scrap yards and even had coal stoves for winter heat. This train carried local traffic, stopping at nearly every town.
The locomotives had large drivers, known locally as the prairie type, and on the straight "race track" between La Junta and Kansas could, and did, set some speed records. One record over this trackage was the famous Death Valley Scotty trip California to Chicago.
You could put a postal letter in the mail slot on the side of the RPO at 1:00 PM and it would be delivered at any of the towns on the route within 24 hours.
We also had a steady milk business. Milk cans came in 5 and 10 gallon sizes, and many farmers shipped their milk this way. They sent milk to some distant creamery that paid better than the local one. Many were sent to the Newton creamery that supplied milk for Hanlin Supply, which in turn was sent out to railroad labor crews in food supplies over the system.
Many a depot worker went home at night with sore shoulders after handling multiple shipments. Unloading was not too bad, since the cans were going down, but lifting 10 gallon cans UP into baggage cars was something else!
Mail, Baggage and Freight Handling
This crew handled checked baggage and bags of U. S. Mail originating in both the local area and across country. Weight volumes of mail bags had their ups and downs, but was always heavy at Christmas. The mail was stacked on both sides of the baggage car with a aisle down the middle. Late one night a car loaded with mail bags almost to the ceiling, was spotted on a holding track. It was the practice of some of the crew to sneak a nap on top of mail bags during slow nights, and they decided to sleep in this car. Most switching operations were smooth, but this night, the car was hit hard, dumping everyone to the floor with mounds of bags on top of them. There was much wailing and consternation, but no one was hurt seriously, but did cut down on the naps for awhile!
One night, I was in a baggage car looking for something and found a large box labeled "Extremely Dangerous" with a wire mesh top. Being inquisitive, I shined my light, to see what was in it. Staring back at me was a live King Cobra! Wow, what a chill that was!
We had soldiers from the local Army Air Corps. base that helped on the mail crew in their spare time. One night we had a coffin with a corpse in a "rough box" (shipping container) to move from one train's baggage car to another, however we had two military trains between the two trains. Most military trains had kitchen cars, with a wide door in the middle of the car on both sides. We took the coffin alongside the troop train until we found a kitchen car, and shoved it through the first train.
At the second train we also found a kitchen car, and had the coffin in the door when someone said something about it being a coffin with a corpse, and these soldiers would not have anymore to do with it. The military train wanted to leave, but could not until the coffin was removed. We had some tense moments until the situation was finally solved with personnel that were not so superstitious! Another incident with a coffin happened on the road between two baggagemen. They each worked in their own car. One was a nervous type guy, easily scared. The other had finished his work early, and decided to take a nap. A rough box is over 6 foot long and fairly wide, so he turned all but one light off which left a dim glow, and laid down on the box for a snooze. The other fellow came looking for him, and nearly died with fright when the man rose from the top of the "coffin" box!
Some crew names I remember were Trinidad Carrillo, C. L. Cox, and Santos Werick as Mail Foremen (Cox was Chief Clerk to Supt. when he retired), and mail crew members Chris Lopez, Raul Guerrero, Ralph Guerrero, George Lopez, Gabe Fernandez, Vincent Valvides, Froilan Rosales, Silas Padilla, W. M. Vasquez, Shorty Perez, Andy Carrillo, and Joe Florez, Eddie Salazar, just to name a few. The mail crew members later worked on the freight house dock as needed. The Freight Warehouse had foremen, R. H. Mc Neal, then Earl Hollis, then Lee Whorton. Greg Everett was a Porter for the passenger trains.
Selling Tickets
We were both train and bus depot, handling bus companies Santa Fe Trailways, and Greyhound in the 1950's. I sold tickets on third trick. Most of the time I enjoyed the public, but the occasional drunk was the down side.
One night, shortly after I began, a fellow was going to Lone Tree, Colorado, but there was no listed town by that name. For over an hour I searched tariffs and made phone calls to Pueblo and Denver without success. Finally I asked a question I should have asked much earlier. "What is the nearest town?" He replied "La Junta."
He lived in a shanty about 5 miles south of town on the road to Trinidad. He would catch the bus under the one tree that grew in that desolated area, that he called "Lone Tree", and the drivers and day ticket sellers routinely sold him 25 cent tickets to his bus stop!
La Junta ticket clerks that I remember were Leonard Grimsley, Byron Kingsolver, Carmel Carrillo, Tony Aragon, A. R. Baker, John O'Neil, and later Chris Watters, and Roger Hernandez.
Station Masters and Special Agents
These railroad policemen had offices in the passenger depot. In 1941 Dave Fresch was the first I remember. He was a large, muscular man, and ran a tight ship! Any nonsense in the depot, and you were history!
Later men were George Friedenberger, Floyd Widup, J.O. Alley, Jim White, and Carlos Martinez (a former clerk) and many others that I can picture in my mind, but can not remember their names.
My next installment is entitled