I was a boy of 15 living in the Denver area before moving to La Junta Colorado with my parents and siblings in February 1941. My father's work with Sinclair Refining Company was located near the Denver train yard, and I had been smitten with the love of railroading.
My First Real Job
La Junta being a small railroad town, I had opportunity to get closer to the railroading that I loved. That summer I hired out at the Fred Harvey Hotel located on the railroad property. I had suffered from polio in my left leg since the age of 2, but was a strapping six foot tall, and able to do strong manual labor. I assume my parents signed a minor's release, however since I looked older that might have been overlooked, especially since I was paid in cash each week.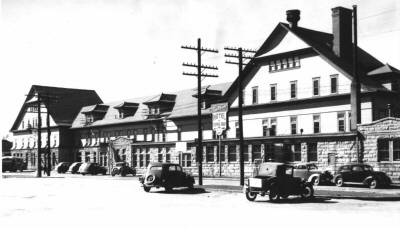 I worked in the storeroom, receiving the necessary supplies to run a hotel and eating establishment. It was a two man operation, and I was the low man. I did the manual labor of receiving, storing and distributing all inbound items such as produce; fresh meat in quarters; bakery flour in 100-pound sacks; canned goods and alcoholic beverages by the case; fresh trout in iced containers from Frantz Hatchery at Salida; and whatever else came in for the hotel operation.

The storeroom was actually two rooms. One was like a grocery store, with canned goods on shelves. The other room contained refrigerated coolers, one for fresh meat which was hung on hooks from the ceiling; one for produce; and a third for storage of liquor kept locked with access only by the hotel manager.

All other supplies were stored in the basement, which also held the cooling machinery for the walk in coolers. I hated to go down there since it was dimly lighted with one bulb, and always smelled of ammonia which was used as part of the cooling process. It was also infested with big red cockroaches! Most were about 3 inches long, and 1 inch wide. For years after the building was torn down, and the new depot built on the same site, the cockroaches still reigned in the subterranean areas.

Almost Railroading

My other main job was to physically supply dining cars on the twelve passenger trains that passed through La Junta, some daily and some bi-weekly. However, Wednesday was the busiest day of each week since all twelve trains, passed through in one day.

The El Capitan (all coach 21-22), Super Chief (all sleepers 17-18) ran twice weekly, eastbound on Saturday, and westbound on Sunday, and both directions on Wednesday.

The Chief (19-20), and the regular California Limited (3-4), and the La Junta - Denver Centennial (9-10) were all daily trains. I seem to remember the Grand Canyon Limited (123-124) as another daily train going through La Junta, but unknown if it came through at this time period.

Another La Junta - Denver train was (13-14) which I think was called the Colorado State. Train 14 was home based at La Junta, arriving daily at 1:00 AM from Denver and leaving fourteen hours later at 3:00 PM, so we had plenty of time to service it.

The dining car stewards would telegraph supply stations advising their needs, and the store room would gather it together and supply the diner in the 10 to 15 minutes allowed during the loading and unloading of passengers. The stewards would be upset if everything ordered was not supplied, but all things were not always available. All available items were supplied in the order of the train arrival, until the supply was depleted.

The Kid Versus The Establishment

I had a memorable confrontation with a steward on train #20, resulting in loud words over an incomplete order. He had ordered frozen trout from the hatchery in Salida, for the evening meal for movie stars on board. The Chief was the last train of the day and our supply was exhausted.

Movie stars were daily occurrences and many town people met the trains looking for autographs. Actor Edward Arnold was sitting in the diner visiting with the staff, when we had our verbal donnybrook. The steward exploded and I responded likewise. At the end he asked for my name to "report me to the head office" which I gladly gave him. Mr. Arnold sat through the whole thing, and as I was leaving, he grinned and winked at me, so I knew he wasn't going to be part of the problem. I had been advised to stand up to stewards when I was in the right. I dreaded his next trip, but he later had realized I was not to blame, and we became good friends after that.

I also learned how it feels to handle large sums of cash. The Chief had a daily cash deposit to leave with the manager, and one day he was gone, so I was elected. It was no sweat for me until I learned it was several thousand dollars. That two block walk to the office seemed a mile at least, with crooks behind every tree! It later became another part of my job and I was comfortable with it.

World War 2

I was working Sunday morning December 7, 1941 when the radio announced the Pearl Harbor attack. and I remember the shock of the message, and the waves of young men joining the service. I too felt the indignation but was a bit too young at 15..

I was there when the first military equipment train came through La Junta. Everyone was frustrated with the sudden increase of traffic, and especially with military requirements and their security demands. The yardmaster put this train on passenger track one for security reasons, otherwise it would be buried in the freight yard out of sight. It thereby blocked any access to the remaining passenger yard.

The streamliners arrived on passenger tracks 3, 4, and 5, after the arrival of the military train for their scheduled 15 minute stop. Passengers boarding or alighting were stymied, as was I. The military train had flat cars loaded with war material, and I had a baggage truck load of food to supply the diners. I pulled up to a flat car and started sliding the food across.

Suddenly a machine gun, was sticking between my eyes, with a very stern young soldier advising me to "get the hell out of there!" After much tension by everyone involved, they finally cut the train, but due to the delay, there was no time to service the dining cars and my boss took it out on me, why only the Lord knows! I had similar experiences during all of the jittery war years, both with Harvey and later during my 41 year AT&SF Railway career.

The Kid Versus The Establishment, Verse Two

After the war broke out, La Junta was picked for construction of an air base ending in late 1942 or early 1943. Our weather was such as to allow about 350 days of flying every year. Carpenters apprentices were making $1.25 per hour, (12.00) daily doing mostly "gofer" work. "Everyone" knew the work was not going to last long, so I "wisely" stayed with Fred Harvey earning the immense sum of $22.00 weekly, working twelve hour days except for Wednesday which was fifteen hours, but smug in my thoughts that I would have a job when the end came. This was 87 hours weekly or 25 cents per hour! Oh wow!

I rationalized it knowing I was working by the railroad I loved, and could eat nearly anything I wanted, for I had a healthy appetite. Nearly every night was a real "Dagwood" sandwich, with several bottles of cold milk, or root beer float to wash it down, and I could stay in the employee living area during summer vacation from school, giving me unsupervised time away from home. During school, I worked the long hours on Saturday and Sunday, and morning and evening hours the rest of the week.

About the time the construction ended, I had a confrontation with an alcoholic adult storeroom supervisor, who was sleeping off a hangover in the store room, instead of doing his assigned work. I refused to do his work, was fired by a relief manager during the two weeks the regular manager was on vacation. No union representation here, just the word of a kid against an adult!

The Building

The hotel was part of a multi-purpose, steam heated sandstone and frame, three story building about two blocks long. It had been built in 1895, with additions in 1907, and 1921. The ground floor of the building was used 2/3 by Harvey and 1/3 by railroad..

The west end was the railroad ticket office and waiting room, and at one time was also the bus stop, selling tickets for AT&SF Railwayy, and Trailways and Greyhound bus lines. At the time referred to here, the ticket office was on the central north wall, with a barred ticket window facing into the passenger depot, and was fully enclosed. In a later remodeling, the ticket office was moved to the east wall, with just a counter which provided a well lighted modern look, adjoining the baggage room

Hotel Layout

Third floor

This floor was divided in it's use. The west end was used for general public. With no elevators, the third floor may have been cheaper rates, or used for overflow only. There was an unfinished section between the west and east ends.

The east end was quarters for the hired help, The quarters for the employees was also divided with the men on the west end of the area, and the women on the east end. We had one married couple, and they were in the middle. The only room cooling was open windows, and open doors to allow the air to circulate.

My room was on the rail side and had a small balcony accessed by window, which allowed us to sit outside and I left the window open in the summer because I loved the smell and noise of steam engines, and still do today!

Second Floor

This was the main hotel. Many rooms had lavatories, but no toilets or bathtubs. They used a communal bathroom down the hall. I have personal knowledge of this since my wife and I spent our honeymoon night there. The antiquity of the hotel is the main reason it was razed in 1956. The plumbing and electrical wiring was bad, and the fixtures all early American, and to use a modern term, it was not "cost effective" to restore.

Ground Floor

The lobby was spacious with wood paneling, and massive old style couches and chairs. It had a wide formal staircase leading to the upstairs, and an office for the manager Mr. Bobo. The lobby was spacious with plenty of wood paneling, and massive old style couches and chairs. It had a wide formal staircase leading to the upstairs, and an office for the manager Mr. Bobo. In the west end of the lobby was a concession stand that opened onto both the lobby and the station platform for use of passengers, and was operated by Jaque Reed. Two bell boys I remember were Gerald White, and Ed Kranz, also school classmates.

Dining Harvey Style

Adjoining the lobby was a formal dining room used for and special events. When the multitude of troop trains began arriving, they were fed in that area, with many local girls hired as servers. This was a daily concern for many months.
Next to the dining room was the lunchroom next to the train platform for passenger use. The decor was attractive wall covering of 4 inch ivory and black tiles, arranged to form a specific pattern. There were only counters with stools. The counters were horse shoe shaped, and I believe three of them. We employees used the overflow counter to eat our meals.
The waitresses wore starched, white uniforms with a black ribbon under the collar, crossed in front. They were widely known as the "Harvey Girls" and were even featured in a film. Many girls were proud to bear that name, and were supposed to be chaste and proper. Most were young ladies in their late teens or twenties, and they were courted by many of the railroaders. One married a Special Agent for the railroad, and the chef's wife was a former waitress. Most were a bit older than I, and they treated me like a kid brother.
Fred Harvey was known for their rich coffee, which was Chase and Sanborn Special Mark. When coffee was selling in local cafes for 5 cents a cup, Harvey was asking 10 cents, and had plenty of takers! If you were a railroader, you could sign the check and pay only 8 cents! A penny meant something then!
Food Preparation
The kitchen was in one of the building additions. It was divided with a cooking room for the chef and his staff, and the other for salad making, dish washing, etc. The head chef was the late H.L. "Pottie" Nelson. He had come to La Junta from Albuquerque, having been a company chef there. When the hotel closed, he operated local cafe's, usually named "Potties".
An assistant cook was well known locally for his spicy red chilli, and many cold winter days a passenger would order the chilli, only to take one or two spoonfuls, and leave the rest. He had a faithful following who relished the chilli however.
The bakery was complete with large natural gas fueled brick oven (estimated size 15 x 10 x 7 ft), and used long wooden sticks with a flat paddle on the end to place and remove the many bakery items in the oven. The baker was Ernest Stangl from Europe.
We always knew when he was on duty, as he raised the great gobs of bread dough over his head and slammed them down on the table, pounding the air out of them, and the sound would permeate the whole kitchen area. His bakery goods were of such excellence, and in such a great demand by all dining cars, that stewards would order enough bakery goods at La Junta, to last to Los Angeles, and back to La Junta, rather than use goods from other hotels.
Since most crews were home based at Chicago, their turn around time would not allow that to happen on the eastbound trip.
His lemon meringue pies were most in demand. Websters dictionary shows meringue means "cake of Mebringen, Germany" so he may have been from that town. He had a daughter June who was a lunchroom waitress.
A Favorite Memory
Our family made a Christmas trip to Denver to see my grandparents. I had to be back in La Junta by 7:00 am on Sunday to do my job. My parents wanted to stay longer, so I made arrangements to work my way home on the dining car on train 10 leaving Denver at 3:00 pm on Saturday. My dad was not known for punctuality. The inevitable happened, and we arrived on the Denver Union Depot platform as the train disappeared in the distance!
Train 13 left Denver at 8:00 pm arriving in La Junta at 1:00 am. A phone call got me a ride on that car and when the car closed for the night, they had their Christmas meal which was outstanding!. . We sang a few carols, and had great fellowship. About midnight they brought out sleeping cots and someone woke me up at 5:30 am in La Junta rail yards and I made it to work on time. I never will forget that Christmas, two great fellowships, one at my grandparents, and one on the dining car!
Above all, it was a pleasant memory of my first real job. I learned a lot about dealing with people that carried over to my 41 year rail career, but that's another story!