When I hired out with the Santa Fe in 1944, I had worked at Lamar only two months when I was bumped. I was force assigned to the little town of Granada, population then and today of about 500 persons, 19 miles east of Lamar. It is famous in Santa Fe history as being end of track when they first built into Colorado. However World War 2 jitters had brought a nearby community of several thousand Japanese-Americans from the west coast to a Relocation Center known as Camp Amache, named after the Cheyenne Indian wife of John Prowers. Granada is in Prowers County.
The staff included Agent Art Stolfus, (later Agent at La Junta); Operator Apprentice Don Ayers, (later dispatcher at La Junta); June Henry, second trick operator; and another lady who worked third trick, name forgotten. Stolfus may have been first trick operator. There was also a Cashier (name unknown); Mr. Walker, Railway Express Agent; and me, still a Utility Clerk.
We mainly dealt with Amache, located southwest from town. I was low man on the totem pole, so I did all the janitor work, and unloading freight from box cars and helped with the express and baggage from the California Limited and a local two car train numbered 123-124, commonly called "The Plug".
There was a commercial fish house in Granada for the many Japanese who favored seafood over anything else. We would get large iced boxes of various seafood, nearly every day on the passenger train.
My shift was the odd hours of 12 noon to 9pm, which allowed me to hang the mailbag for the hotshot mail train No. 7 which was scheduled for late afternoon, but with heavy war traffic ran late much of the time. Normally the postmaster did that job, but he went home at 5 pm. The bag had rings on each end, and was suspended from a mail "crane" by metal clips. The train would come by at speeds of 80 MPH, and the RPO (Railway Post Office) car had an arm that was swung out manually by their employee, at a 90 degree angle from the car, and would snatch the mailbag from the crane. They also would throw off a mail bag, and it would roll and bounce to a stop for me to find, sometimes in tall weeds. .
The pickup bags needed to be in good shape or they would tear open. One did, containing $10,000.00 of government checks, and FBI types came in by the dozens looking for the checks, that had scattered around the area. Later it happened again, however this time the bag came loose from the crane from the suction caused from the engine passing by, and fell under the train wheels.
I had an apartment at the old Ellis Cafe and Hotel. It was really a bar that served food. The building was of near frontier age, and the north side had several rooms they rented. In my mind I fantasized the rooms housing western characters in times past. Since Granada had been end of track when the Santa Fe builders crossed over from Kansas, I could picture railroad workers and cowboys taking girls to their rooms!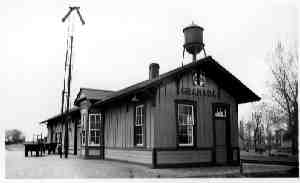 My window faced onto the depot just across the tracks and several times the Agent would come across the tracks and knock on my window to get me up, since I spent most of my evenings in Lamar, getting back to Granada in early morning! Later they changed my starting time to 10 AM to 700 PM and the boss laid down the law, so I bought my first alarm clock! I worked again in Granada in 1945. This time we were helping the Japanese people in their move back to California, and we sent a lot of their belongings by freight.
I really felt sorry for most of them. They were mostly great people and I dealt with several that I considered good friends. They were uprooted from their homes and jobs, just because their ancestors were Japanese. A few did declare allegiance to Japan and were deported. The worst part was minor kids, who considered themselves as Americans, and had to go with their deported parents. One young guy about 16 told us that he probably would serve in the Japanese army shooting at his American friends, while his 12 year old sister could end up as a prostitute because of their lack of money and position. When they were going back, they would pack every thing they had, but we had to inspect each item to make sure there was nothing dangerous. We had one box car catch on fire in New Mexico which was attributed to "farmer" matches rubbing together in someone's personal effects. They did not want to leave anything behind, which I assumed came from their disgust of the situation they were in, having left so much behind in the beginning.
They mostly rode the California Limited back and forth to California, and nearly every day the train conductor would yell "all aboard" several times as they bid farewell going through the customary cultural bows and parting exchanges, leaving their many new and old friends to begin life anew in their old home areas. After they left in 1945, my job was abolished and I went back to Lamar.