With the advent of gasoline rationing, public transportation was heavily used in the war years. Most of my early memories at La Junta were of the military moving through. Sometimes there were entire trains, commonly called troop trains, and other times just a car or two.
In 1941 when I was 15 years old, I was already 6 feet tall and pretty strong, except for my left leg which was decimated from polio at the age of two. Having been so afflicted from that early age, I had learned how to cope. Other than a slight limp, I was not visibly handicapped, as long as I had long pants on. I felt my height made me look older than 15, so I applied for a job at Fred Harvey, lying about my age, and was hired as a part time worker since I was still in school, but working full time in the summer and on weekends. My main job was to supply food to the passenger dining cars, and to supply the hotel kitchen, plus whatever else needed to be done.
I was working on Sunday morning December 7, when the radio announced the Pearl Harbor attack. Every young man was ready to join up, and many did, but my bout with polio made me 4-F, and I was a bit too young. The Army was stricter about age than Fred Harvey! I was there when the first military equipment train came through La Junta. Everyone was frustrated with the sudden increase of traffic, and especially with military requirements and their security demands. The yardmaster put this long military freight train on passenger track one, for security reasons, thereby blocking any access to the entire passenger yard. The military train had many flat cars loaded with war material.
Shortly thereafter the streamliners arrived on tracks 2, 3, and 4, and I had a baggage truck load of food to supply the diners, with a maximum of 15 minutes to service them. I could see the diners, but could not reach them, so I did what any thinking person would do. I pulled up to a flat car and started sliding the food across. The next thing I knew, a very large bore machine gun, was sticking between my eyes, with a very stern young soldier barking orders at me to "get the hell out of there!" The dining cars did NOT get serviced, and I did get reamed by my boss. I was losing at both ends, but I was still alive!
Most military trains had their own dining cars in later years, but in the beginning troop trains and individual military cars moving in regular passenger trains, usually were fed in the Fred Harvey Hotel dining room if the meal hour fell right. Many local girls were hired to serve the need. The men were fed pretty fast, but the girls still worked long hours. Since most banquets were for local dignitaries, the serving equipment was such as found in elegant dining rooms. My wife Dot worked there at times, and remembers coffee pots with straight handles sticking out the side, and after hours of serving, made for aching wrists!
One night, the California Limited No. 3 had a sleeper car of WAVES (Navy women) on the rear, and the Fast Mail & Express train No. 7 had a sleeper car of soldiers. Mail trains were somewhat like freight trains with no services other than heat, air conditioning, and electricity. Someone got the bright idea to combine the two cars on No. 3 in order for both cars to have access to passenger train conveniences. They hooked them together for about 20 minutes, which was a bad move!
A lot of the equipment had been resurrected from the scrap yard to meet the war need, and was not in the best condition. The air conditioning on some of the sleepers was not mechanical, but was "ice activated" which required blocks of ice from the ice house in the back shop area
Occasionally a passenger would stroll uptown on some errand, and find themselves stranded when they returned to the depot. A soldier from train No. 3 one night, came back to find the train departing without him. He still had the brick depot platform to run on, and got to the last third of the train but was unable to find an open door. In desperation he hooked on the grab irons on the last car, and was beating on the door and yelling when I lost sight of him in the darkness.
We had no two way radios at that time, but IF the station at Timpas (17 miles away) was open, the train could have been flagged. The next station would have been Thatcher, 45 miles away, IF it was open, and his last chance would have been Trinidad 81 miles away. We later heard he made it inside OK, but he rode a few miles in cold desperation!
Several times, passengers who missed their trains, would hire a local driver to speed down the road trying to beat the train to the next open depot. Catching a train by car was not easy. The superintendent brought a mail pouch to the depot one evening with instructions to put the package on the Assistant General Managers business car on train 13 to Denver WITHOUT FAIL! I can't remember the man responsible, but as the train was leaving, he noticed the pouch laying on the counter.
Taking his car, he missed the train at Swink (4 miles), Rocky Ford (7 miles), Manzanola (16 miles), but did get to Fowler (24 miles) in time to throw the pouch on the observation platform of the business car as it went by, and called Pueblo by phone telling them where it was. This was a two lane road with a 60 MPH speed limit, and three towns. His guardian angel must have been very busy that night!
We had occasional chair cars with tightly guarded German or Italian prisoners of war, probably going to the prison camp at Trinidad, Colorado. One car was in the passenger yard for several hours, with armed military guards patrolling. Patriotism was high, and a number of local people came to stare at them. Some vented anger, and did some taunting. The guards were usually with the locals, however when things would get too bad, they would exercise their authority.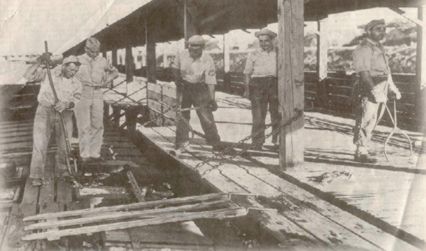 A recent historical picture in the Pueblo Colorado Chieftain showed Italian prisoners working at a ice plant in Pueblo, icing rail cars. They must have been prisoners brought up from Trinidad, or a satellite prison camp in the Pueblo Army Air base area.
We had soldiers from the La Junta Army Air Corps base that helped on the mail crew in their spare time. One night we had a coffin with a corpse in a "rough box" (shipping container) to move from one train's baggage car to another, however we had two military trains between the two trains. Most military trains had kitchen cars, with a wide door in the middle of the car on both sides. We took the coffin alongside the troop train until we found a kitchen car, and shoved it through the first train.
At the second train we also found a kitchen car, and had the coffin in the door when someone said something about it being a coffin with a corpse, and these soldiers would not have anymore to do with it. The military train wanted to leave, but could not until the coffin was removed. We had some tense moments until the situation was finally solved with personnel that were not so superstitious.
We also had carloads of Jamaicans brought in as migrant labor, due to the lack of farm laborers. They would try to talk you out of any thing they could get, especially cigarettes. Their dialect was hard to understand, but also interesting to listen to.
These are just a few of my war era memories, many of which are too long to relate, or of such nature they best be left unsaid in mixed company!