1972-74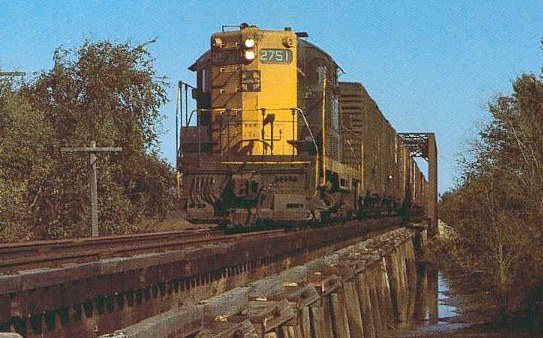 GP7 2751 crosses the Cottonwood River south of Emporia. Photo by David Franz, from Wheat Lines and Super Freights by Joe McMillan.
Rod Riley reports:
"In the 1970s the usual power was a 2650 class GP-7 or a GP-9. There was an occasional F unit or F-M switcher such as the 560 (H12-44). The 560 had class lights. It is at preserved at the Orange Empire RR Museum in Perris, CA. It was a good switch engine."
Photos submitted by Riley show GP-7s 2720 and 2846 in pinstripe blue in 73-74.
"The branch also had CF-7s for power. We called them Cleburne Geeps (and worse sometimes), but we liked the air conditioners."
"We also got 3100's (GP20s); 3110 was a regular one winter. The best we got were 3500s (GP38) and in the last year or so they were common."
Riley also commented on the pulling power of the 2100 series RSD4 Alcos used on the line in the 50s and 60s.
Two consist sheets submitted by Riley for August and September, 1960, show GP-7 2657 as a regular.